Here's some of my highlights in entertainment...
My sister and I were living the dream! What a ride it was to be working and playing with the greatest entertainers of the 20th century! Always keeping in mind to be true to ourselves! It's all in our book, Beyond Our Wildest Dreams!
LARRY KING LIVE, CNN-TV
Larry King interviews Maria Lauren with her daughter, Marianna.
Features, The Dean Martin Golddiggers, and reunion performances of "Showstoppers."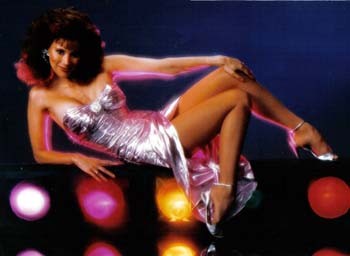 About Maria Lauren - Entertainer - TV - Stage
Besides being a two-time national fitness representative, Maria Lauren, aka MariaElena Alberici was an entertainer and television personality. Maria has been a guest on countless TV talk shows internationally. As an actress, Maria Lauren co-starred in episodes on the TV series, Quantum Leap, Knight Rider, and JAG, to name a few.
A versatile entertainer, Maria Lauren has starred in numerous regional stage productions of Broadway musicals and reviews including "Company" at the Wilshire Ebell Theatre, Los Angeles, and "Showstoppers" at the Canyon Club in Los Angeles.
"Magnificently performed by Maria Lauren whose appearance is as lovely as her voice… Ranks with the finest!"
– News Chronicle
Maria Lauren hosted and co-wrote episodes of the KTTV Bed-time Movie TV series that featured classic movies and also hosted and produced an ongoing TV series,
You Got The Power
, that focused on healthy living.
THE DEAN MARTIN GOLDDIGGERS
In 1973, Maria and her sister Linda joined the glamorous singing and dancing group, The Golddiggers, co-stars of TV and Vegas. Later, during the '80s and '90s, Maria and Linda had the distinction of being one of the last four women to regularly open in Las Vegas for Dean Martin.
Pictured are Peggy Gohl, Marie Halton, Dean Martin, and the Alberici Sisters, Linda Eichberg and Maria Lauren.
"Those last four girls were definitely among the best."
– Lee Hale, Backstage at the Dean Martin Show
The Golddiggers - Alberici Sisters - Rat Pack Tour - Las Vegas
In 1977, The Golddiggers including Maria Lauren and her sister, Linda Eichberg were the opening act for the 1977 Rat Pack Tour, "Together Again" starring Frank Sinatra and Dean Martin
Following the "Together Again" tour with Frank Sinatra and Dean Martin, another Alberici Sister, Darlene Cianci, joined The Golddiggers to tour with Donald O'Conner, Dick Shawn, George Jessel, and Milton Berle… On this tour, Maria Lauren was chosen to prove her comedic ability as the "Leading Lady" in the star-studded Vaudeville skit.
In the 80's, the Alberici Sisters, Maria Lauren, and her sisters, Linda Eichberg and Darlene Cianci entertained internationally with a
Command Performance for the Royal Family of Monaco.
Bob Hope - Robert Goulet - The Golddiggers
Through the years... Maria Lauren, her sister Linda Eichberg, (Alberici Sisters), and their "gal pals"
...
Wendy Kimbal, Peggy Gohl, Patti Gribow, Joyce Garro, Susan Buckner, Robyn Whatley, Robin Horniff, Coleen Kincaid, Lee Nolting, and Deborah Pratt.
Dean Martin's Red Hot... Comedy, Fun, Country, Music...
With the Alberici Sisters of The Golddiggers from the 1970s into the New Millennium!